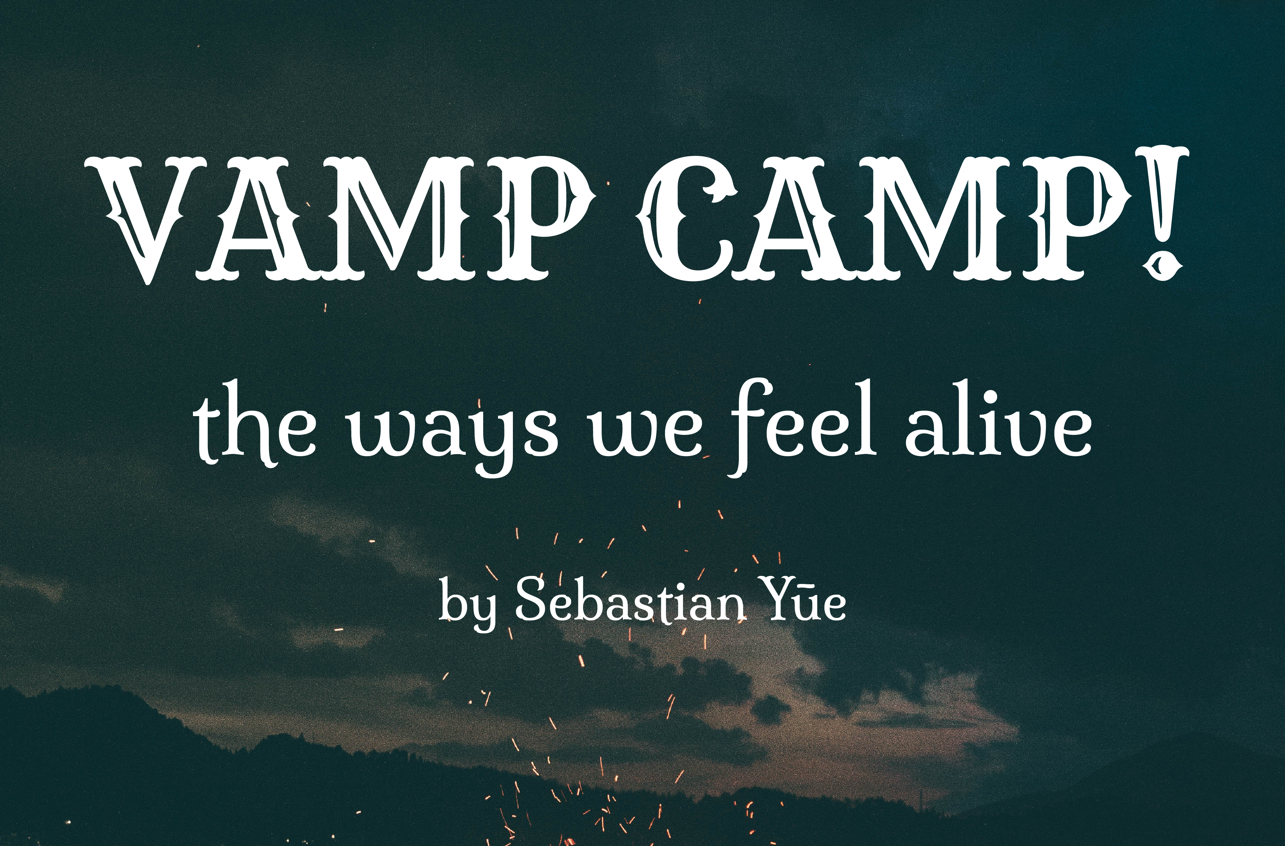 VAMP CAMP!
You're a new vampire and it's not quite as straightforward as you imagined. Maybe you're struggling to accept your new form, or maybe your feeding habits are testing your roommates' patience—it's not your fault that you have to keep a bag of blood in the freezer! Perhaps you've tried to talk to your living friends about it; while they're kind and sympathetic, there are some things they just don't get.
In your search for help, you've stumbled across VAMP CAMP, a local support group for vampires and the only one in your area. In this game for 2-6 players, you're going to attend your first VAMP CAMP meeting. You're not sure what to expect but at this point, you've got nothing to lose.

This game is GMless by default, though there are alternate rules included if you prefer to play with a facilitator. Players take turns reading and responding to prompts about their experience as vampires. If you don't have your own ideas, you can use the roll tables provided to choose or randomly determine them.
This game comes with:
A 4-page document containing the rules, prompts, and roll tables
A tagged PDF for use with screen readers
Please note that safety tools are mandatory for this game. The game rules include information on how to use them, as well as a link to the TTRPG Safety Toolkit.
This game was written for #BIPOCVampJam 2021. As such, you play as a vampire of colour. I'm a designer of colour who wrote this game to invite other BIPOC to explore vampirism without the stereotypical constraints prevalent in white vampire traditions. Please play the game with this intention in mind.
Check out this overview of the game from Huetopia's Game at a Glance show!
Purchase
In order to download this game you must purchase it at or above the minimum price of $4.95 USD. You will get access to the following files:
VAMP_CAMP!_Stylised.pdf
3 MB
VAMP_CAMP!_Tagged.pdf
311 kB
Community Copy
Support this game at or above a special price point to receive something exclusive.
Community Copy
If you're in need and can't afford to buy the game, please help yourself to a community copy.
Every sale contributes to the pool (13 provided to start). Anyone who pays over the minimum price of $4.95 adds two more copies.
Please review, rate, leave a comment and share links to the game with others as a way to help me out for free. Thank you!
Comments
Log in with itch.io to leave a comment.
Hello. I was wondering if there is a community copy available? Please let me know. Thank you. 😊